About Us
Who Are We?
The Chihuahua Empire® family consists of Chi owners, lovers, and enthusiasts from all over the globe! We have years of experience under our belt and know what every dog owner needs. As a result, you can find everything you need to watch your pup grow into a fierce, intelligent dog right in our shop!

Additionally, we want to make sure that each customer is 100% satisfied with our company. Consequently, we offer a responsive, 24/7 customer support service that will personally assist every single client (or business). 
Finally, the Chihuahua Empire has won numerous awards that serve as a testament to our quality, including the Top 5 Chihuahua Brand Shop for 2015, 2018, and 2019. 
Our Mission
We do everything with one single goal in mind - making the world a better place for Chihuahuas and dogs alike. We aim to educate, inform, and raise awareness about the wonders that is the Chi breed. To do this, we're in constant communication with rescue centers, owners, and enthusiasts - always improving and searching for new ways to turn our goals into reality!
Our collaboration with rescue centers is what allows us to make an impact and shine when it matters the most. As a result, we've decided to create a unique
Chihuahua Empire® Lifestyle Brand collection, from which we donate 100% of the profits to these selfless and caring centers.
Not only that, but we also maintain a close relationship with experienced dog behaviorists. Consequently, we make sure that all items from our shop are high-quality, mentally stimulating, and convenient for use.
With our goal in mind, we also aspire to adopt every abandoned Chi out there. If you're looking to give an unlucky pup a new chance at life - we'll do everything we can to make sure you find a perfect new companion to join you on your journey! However, if you opt to buy a Chi instead of adopting - make sure you do so from a respectable and proven breeder with years of experience working with Chihuahuas. 
Finally, we firmly believe that knowledge is power. As a result, we aim to use our platform to educate owners and help their pups grow into healthy, well-behaved canines. If you're looking for advice on how to care for your Chi properly, make sure to check out our blog section - where we regularly update our readers with informative and engaging content.
If you love Chihuahuas and want to help us achieve our mission, you'll fit right in with the Chihuahua Empire family! We're delighted to see you here, and we look forward to our long journey together!
What About Actual Chihuahua Puppies?
We get that a lot. Although we receive countless inquiries about puppies, we do not actually sell them. Never have, never will. No matter how great a pet shop is, they are not geared up to adequately take care of dogs until they go to their forever home. We believe and support pet adoption through registered breeders and animal shelters. This is a much better approach to finding your new family member.
Price Matching & Pricing Policies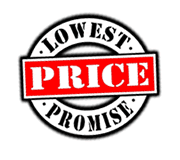 We aim to provide competitive pricing on all of our products. It sounds simple but we pride ourselves on offering consistent and competitive pricing across our entire range of products. We're constantly checking prices at leading supermarkets, pet stores and online competitors to ensure we offer some of the lowest prices throughout world.
We don't like to be beaten on our everyday pricing and encourage you to contact us if you do happen to see a cheaper price elsewhere. We aim to remain your first choice for pet supplies and accessories for a long time to come!
*Lowest Price Promise: Whilst we'll happily attempt to match or better our competitors pricing, in some rare instances there may be circumstances which prevent us from being able to fully match a particular price. When considering price matching, we factor in our shipping rates as well as stock levels at the time of your request. Chihuahua Empire® will not compromise their customer service levels, by selling goods at unsustainable levels.